Happy holidays and welcome to December's edition of Getting Scrappy With. This month our featured scrapper is Guiseppa, aka Seppa, a very talented scrappy with lots of wonderful scrapbook layouts and other projects in her Scrapbook.com gallery and on her blog, My Creations. She designs for Fancy Pants, Zva Creative, Samantha Walker, and the Let's Capture Our Memories sketch team. And now we're going to get to know Seppa a little bit better!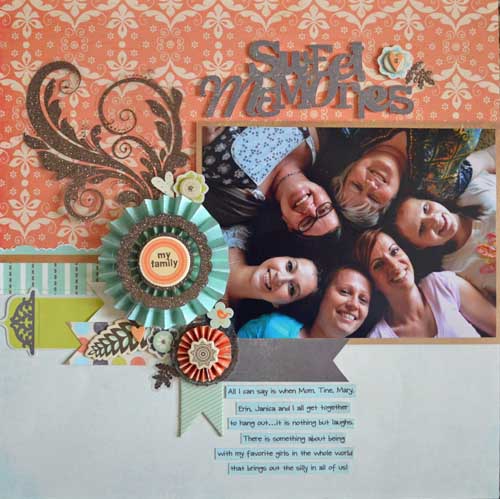 click here to view this in Seppa's Scrapbook.com gallery
What are your favorite scrapbook manufacturers?
Besides the ones I design for I really love Cosmo Cricket, Pink Paislee, American Crafts, and Echo Park. I could keep going though.
What are some scrapbook items that you really, really want right now?
I love new product and since Winter CHA just took place...give me one of everything baby!
When did you start scrapbooking?
I started scrapbooking about 16 years ago when I was pregnant with my son.
Like anyone, I want to preserve family memories, but I also love the creative process and seeing the end result. Scrapbooking makes me happy.
Where do you get your creative inspiration?
I love going online to find inspiration as well as in magazines.
How has your style evolved over the years?
Well, I think for the most part I tend to stick to a simple design. That is how I started. But since then I have developed a love for embellishing. I have added more embellishing to my designs.
I am a 12 x 12 scrapper all the way. I used to scrap 8.5 x 11 but changed over to 12 x 12. Got to fit more embellishments on a page!
How often do you scrap about yourself?
Every once in awhile I scrap about myself. It is much easier to do it now that I have dropped about 60 pounds. I hated being in pictures and having the focus on me. Now, I love to do it!
Congrats on your weight loss! That is a fantastic accomplishment!
Is there a technique that you think of as your "signature"?
I would like to say that my signature is dimension. I love layers and dimension on my pages. Pop dots are a staple at my scrapbooking table. I don't ever create a page without using pop dots.
click here to view this in Seppa's Scrapbook.com gallery
I've started using pop dots more. They are great! Where do you scrap and what does your scrap area look like?
I share an office with my husband (I really need my own room). That is where I do all of my scrapbooking. I usually scrap during the day when my husband is working and the kids are at school.
I don't think there is anything real pretty about it but I do have a place for everything. It's just that not everything is in its place right now. [I use] l
ots of storage bins and shelves. I do have a homemade clip it up. It is just a stand that has two wooden dowels that have metal clips attached and it holds all of my embellishments. It is a great way for me to see what I have.
Do you dabble in any other creative projects?
I have started to dab a little bit into sewing. I have made some blankets and small sewing crafts. The Samantha Walker Creative Crafters Team I am on has opened me up to how fun sewing can be.
For my blog readers who may live in your area, can you recommend any good local scrapbooking stores?
I have a couple of really good scrapbooking stores near me [in Utah]. One is called The Book Table, located in Logan. The other is Carolee's Creations, home of the Adornit Brand. All the locals should stop by. Carolee and the Adornit girls are super sweet. I love them!
***
Thanks for being part of Cook Scrap Craft this week, Seppa! And to all the readers, you know how this works: Come back on Wednesday to see more of Seppa's scrapbook work and on Friday, we'll share with you a yummy chicken recipe.