I'm happy to introduce you to another one of my favorite scrapbookers, KariAnn Sweeney. I came to know KariAnn's scrappy work from her Scrapbook.com gallery, where she goes under the username KariAnn. From there, I began following her blog,
It's a Wonderful Life
, where she shares her scrapbook layouts, including her work for the
Scrap Freak
design team, and so much more. What I love most about KariAnn's scrap work is the non-fussiness to it. Her layouts are clean, neat, and beautiful. Some of them are very simple (perhaps one photo and a few strips of patterned paper) but they carry such an impact. Check out
KariAnn's blog
and
Scrapbook.com gallery
and keep reading to learn more about KariAnn.
click here to see this on KariAnn's blog
When did you start scrapping?
1994 with construction paper and puffy paint. Wow, have things changed! My style has evolved from busy two-page layouts to a more clean, linear look. My work tends to be simple and clean with the focus on the photo. I love layouts with white space and an uncluttered look. To me the photo(s) should be the focal point of the layout with the journaling as a compliment to the story. I like to find a way to use product/embellies in a way that doesn't overpower the subject but highlights it at the same time.
What are your favorite scrapbook manufacturers?
I love Jillibean Soup, October Afternoon and American Crafts.
Where do you get your creative inspiration?
I find most of my inspiration through online scrapping galleries, magazines and television.
How often do you scrap about yourself?
I make a conscious effort to scrap photos of me. I think it's important. A couple of years ago I started a Book of Me and create at least one layout a month for that album.
That's great! Where do you get all your scrapping done?
I scrap in my
"office"
, which is my dedicated space in my basement. It's not a huge space, but it's mine. It's located right off of our family room so I'm able to create while the kids play.
I prefer to scrap in the morning but with three kids under age 5 it's not always possible. Lately I'm creating at night once the girls go to bed. 20 minutes here, 20 minutes there.
Any tips on keeping scrap supplies organized?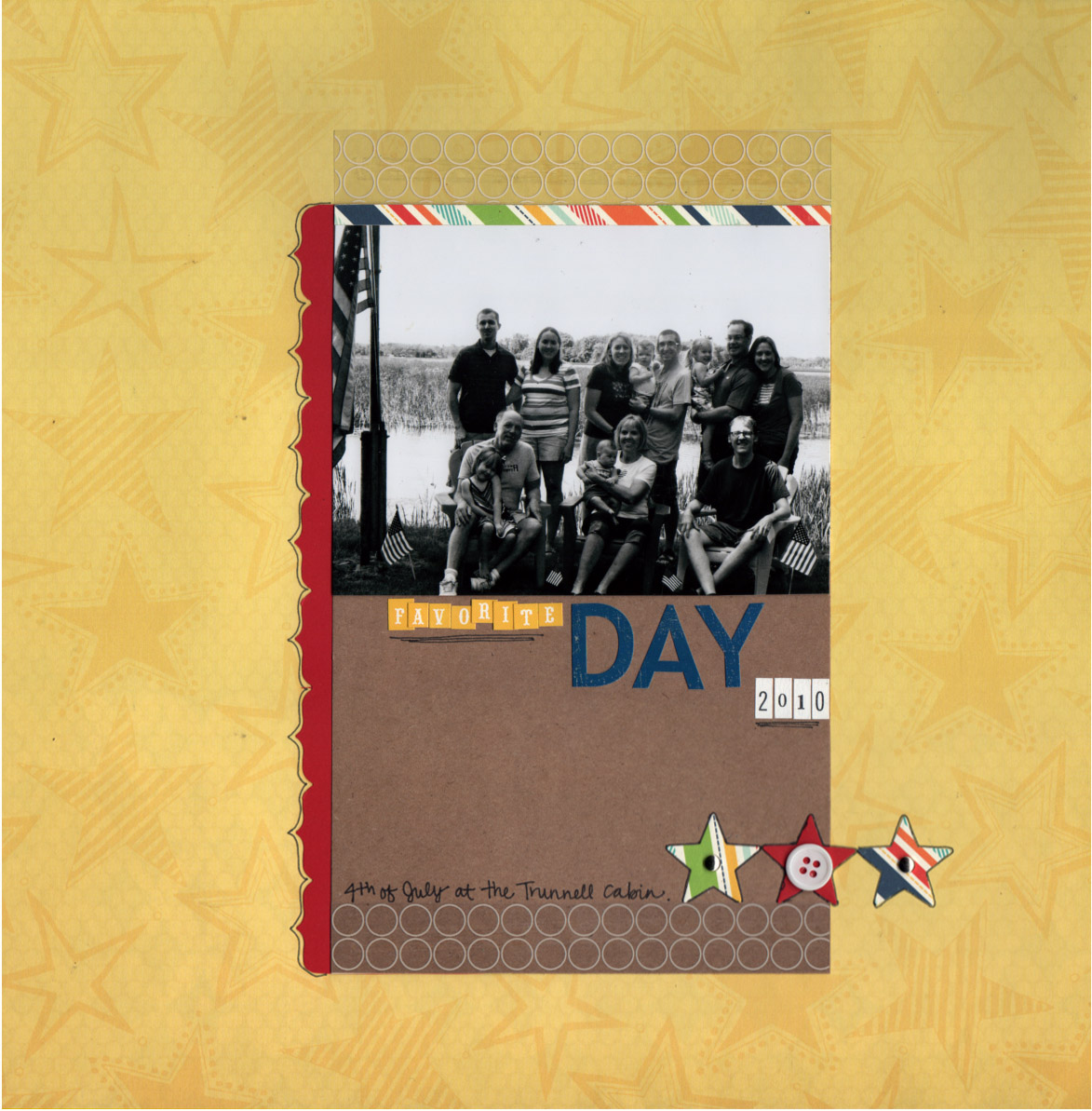 click here to see this layout at KariAnn's
Scrapbook.com gallery
My organization strategy is always evolving. I do a clean sweep every three months of my scrap supplies. I organize my supplies into three piles: Keep, Store, Donate. The Keep pile contains those items I want to use sooner than later. I keep these items at close reach. The Store pile contains items I want to keep but may not use right away such as mini-albums, cardstock, etc. These get stored out of sight. The last pile, the Donate pile, contains all the things I know I won't use.
That's a good system. I really need to do that! Alright, last question: Why do you scrap?
I know everyone says it, but scrapbooking and crafting truly are a passion of mine. There is something intrinsically selfish about scrapbooking and making things by hand that I just love. It's such a rush of warmth when you give a gift that you made and see how it makes the recipient feel. I'm proud to admit that I've been known to dream about scrapbook layouts to the point where I'll wake up to sketch something or write down a title idea before going back to bed. I scrapbook because these everyday moments are important enough to remember.
***
Thanks for being a part of Cook Scrap Craft this week, KariAnn! Don't forget to visit KariAnn's blog,
It's a Wonderful Life
, and
Scrapbook.com gallery
and then come back here on Wednesday to see more of KariAnn's scrapbooking!
Also, if there are any scrappers that you'd like to see featured or any specific questions you have for the featured scrappers (both future and past), let me know in the comments!