Welcome back to the second installment of

Getting Scrappy With...

This time we are chatting with Glenda, aka Unicorn on Scrapbook.com. Glenda first caught my eye because her scrapbook pages are SO unique. You see her work and immediately know that she's the artist behind it. Her layouts usually incorporate inking or misting (which looks really cool... see below for how she does it) along with small pictures (not your standard 3x5 or 4x6) littering the page.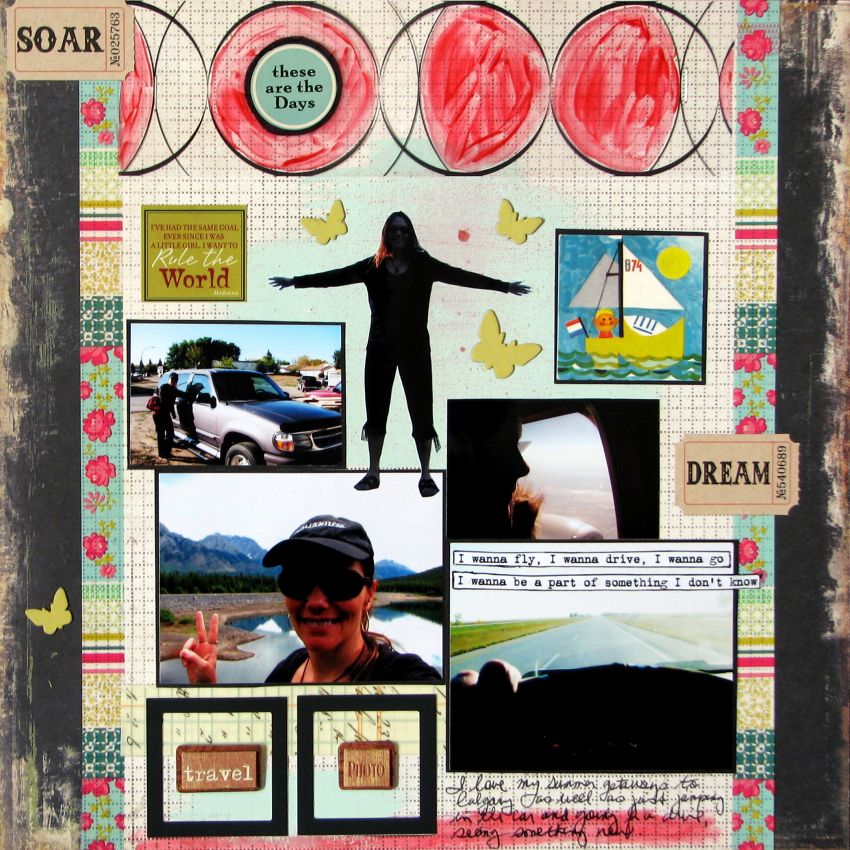 (

click here

to see both of these on Glenda's blog)



Aren't these awesome? The first picture is an artist trading card or ATC, which have become really popular among scrapbookers lately. Kind of like baseball cards for artsy people. The second image is a scrapbook layout. I love all the elements Glenda incorporates onto her layouts and I also love that she frequently scraps about herself!

"
I love scrapping about me and feel very comfortable doing so," Glenda says. "Some people find it hard or maybe think that they shouldn't be scrapping about themselves because it's vain or something but I say do it!! You owe it to your family and future generations because if you aren't in the albums then a huge part of the family is missing! It gets easier the more you do it-trust me!"

Glenda's unique style has garnered her design team positions with Scrapbook Star, Scrap-Tastic, and the Gutter Girlz challenge blog
. She regularly blogs about her life and her art on her blog, Somewhere Over the Rainbow. You should definitely check it out after you read more about Glenda here.
Glenda, when did you start scrapping?

Around 11 years ago.


And why do you scrap?
I think mostly because it's fun but also to pass on memories to my kids so I don't forget because I have a horrid memory!!
Has your scrapping style changed over the years?
Well, do you remember the "Creative Memories" style where you had a sheet of white cardstock and then you cut up all your pictures into star, circle, square shapes and then plastered little Sandylion or Mrs. Grossman stickers all over? Yeah. That pretty much says it all. I'm much more into the paints, inks, stamps and Glimmer Mists now and love to play around with different techniques and styles.
The Creative Memories stuff is how I got introduced to scrapping. I still have those star, circle, and square shapes from CM!
Well, now that your style has evolved, do you have a favorite technique?
Well, I use Glimmer Mists A LOT, and I like to spray it on a little thick and then let it drip down the page.
From reading your blog I noticed that you've gotten into other creative projects, as well. Can you tell us about those?

Yes! Scrapbooking has opened up a whole new world of artistic ventures, which now include ATC's (artist trading cards), art journaling, making canvases, and mini albums.

Where do you get your creative inspiration?
Where don't I! I find it everywhere. In magazines, online, other artists galleries, ads, etc.
Do you have a favorite place to scrap?
I am lucky enough to have an art room, so that is where I make my magic. I work fulltime so my scrapping is limited to evenings and weekends. I need to win the lotto so I can make art full time!!


I hear ya on the lottery business. What does your art room look like?
It has a wooden table where I create that is loaded up with a 10-tray paper holder, a clip-it-up, and lots of other clutter. It has a bulletin board that I can post six layouts at a time on before I put them away into my albums. My little computer desk is in it as well as a big cabinet that stores some of my albums and a lot of other stuff and some other storage thingies.
It sounds like you're pretty organized. Any tips for my readers?
Well, maybe ask me next year as we are going to be building a new house and I am going to have major storage in my new art room!! I'm tired of everything being crammed in and not being able to find stuff without going on a big hunting expedition!
A custom-built art room sounds awesome! Thanks for being part of Cook Scrap Craft this week, Glenda!


***

If you want to know more about Glenda and her work, especially her way awesome ATCs, check out her
blog
and visit her
Scrapbook.com gallery
. Then stay tuned to Cook Scrap Craft the rest of this week for more inspiration from Glenda!